SENSYROC II™
WIRELESS SENSOR
Wirelessly monitor the health of your concrete in real-time.
Get a quote
SensyRoc II™
SensyRoc II™ is a solution offered to precasters and material development companies that enables them to wirelessly monitor the health of their products in real time.
SensyRoc™ Mobile App
Wirelessly collect performance data using SensyRoc's free iOS or Android app.
Instantly share data reports with anyone on your team.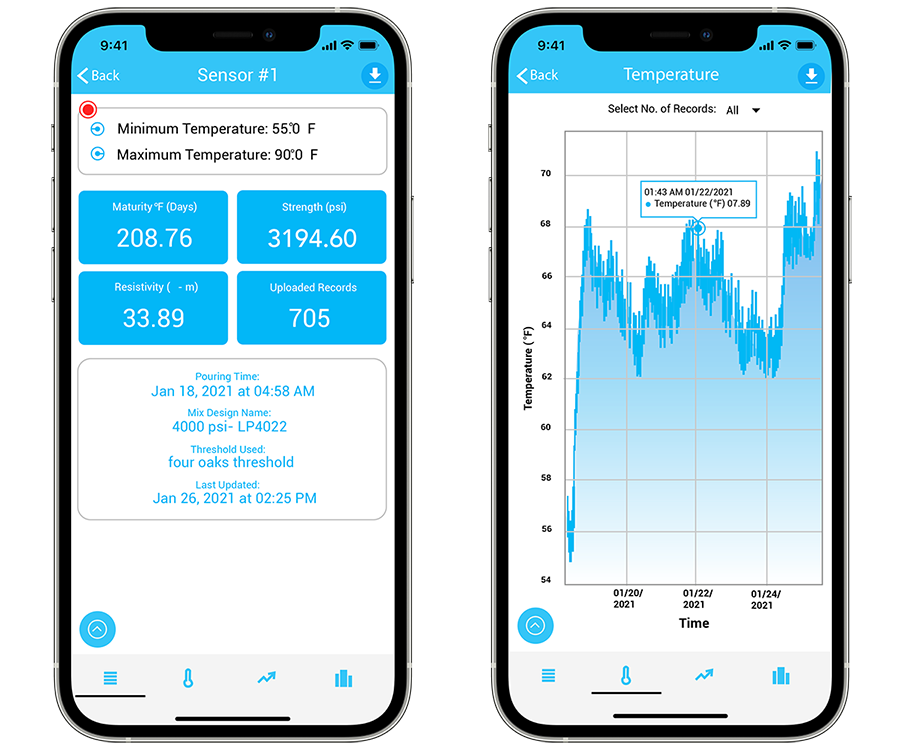 GET A FREE DEMO TODAY!
Contact our technical team for more information.
The SENSYROC II™ Platform
See how SENSYROC™ is being used
HARVEY Builders Case Study
Reliable & Accurate Strength Predictions helped expedite the project schedule and ensure concrete quality!
During the construction of a 17-story building located near Katy Fwy in Houston, Texas. HARVEY counted on SensyRoc wireless concrete sensors to provide real-time monitoring capabilities, which ensure concrete quality, safety, and cost-efficiency.
Reading Range:
-30 to 80° C (-22 to 176° F)
Measurement Frequency:
Adjustable time intervals for data recording
Wireless Signal Range:
Up to 15 meters (49 feet)
Dimensions:
38mm x 38mm x 25mm (1.5in x 1.5in x 1in)
Battery Life:
Up to 12 months after installation
Sensor Reusability:
Ability to Re-Use the sensor multiple times
Replaceable Probe:
Ability to replace concrete probe
Data Communication:
Android and iOS application
ASTM C1074, ASTM C1760, AASTHO T-358
How deep should the sensor be installed?
The sensor transmitter must be placed on the outside of the formwork and the concrete probe can be buried in concrete to whatever distance you desire.
Can I reuse the sensor transmitter for other pours?
The sensor transmitter can be re-used for other pours at any point. You will have to replace the sacrificial concrete probe that gets embedded in the concrete.
Does SensyRoc come with longer concrete probe cables?
Yes. Please ask one of our sales representatives to provide you with these options.
What range of wireless connection should I expect with the sensor?
When the sensor is installed inside concrete as recommended, it can transmit up to 49 ft (15 m). When the square transmitter is exposed (outside of the concrete), the range of the wireless signal can be up to 100 ft (30 m).
Can I turn the sensor on and off?
Yes. SensyRoc can be turned off to preserve battery and memory until the start of the pour, this is done by easily sliding the on and off switch on the top of the transmitter box.
What is the battery life of the sensor?
The sensor can take a measurement at whatever time interval you set (every 1 min or every 30 days), allowing it to collect data for 12 months. However, we recommend taking a measurement every 15 mins which allows the battery life to extend to 6-9 months. This enables the user to retrieve the data for a long period of time.
Up to what depth can I measure concrete's temperature and strength?
You can measure at whatever depth you need it. Contact our team if you are not sure if the application fits with our products and we can guide you in the right direction.
Can anyone download the SensyRoc iOS or Android app?
Yes, if you have a smartphone or tablet you are able to download the SensyRoc app. However, you will need a username and password to access the app. Please reach out to our customer support team if you need help with access to the app.
Download Product Brochure
Fill out the form below to have access to it.