Reliable & accurate strength predictions helped expedite construction process
HARVEY Builders is one of Houston's largest general contractor and an undisputed leader in construction that provides its clients with quality work by skilled professionals.
During the construction of a 17-story building located near the Katy Fwy in Houston, Texas. HARVEY was counting on Material Lab Testing for reliable concrete strength data after every concrete mass-pour. It was extremely important for them to obtain reliable and accurate data to plan accordingly before performing post-tensioning could not have been performed without the lab test results. Additionally, some compressive strength test results from the cured cylinders fail to meet the specified PSI, which caused even more delays since HARVEY builders needed to do some core testing to verify the strength before moving forward.
The Solution
SENSYROC ™ wireless concrete monitoring sensors for in-place concrete strength
With 150,000 yards of concrete being poured in this high-rise construction, HARVEY builders team installed 5 SENSYROC ™ sensors for each 350-yard concrete slab. The user-friendly sensors were easily installed on the rebar directly above the critical post-tension areas on each floor. Once embedded into the fresh concrete, SENSYROC ™ sensors started transmitting in-place temperature data during the mass pour wirelessly to the mobile app. The sensor required little to no effort at all during the installation and this task can be done by any worker onsite. On average, sensors can predict the specified compressive strength of the concrete within 10-24 hours after its pour/placement.
The Results
1. Post-tension optimization
Accurate and reliable concrete data from SENSYROC ™ sensors allowed HARVEY builders to preform the post-tension of the slab two days ahead of schedule instead of waiting for 3-days break test results. This resulted in significant financial savings as result of the early completion of the project. SENSYROC ™ sensors also used the maturity method (ASTM C1074) to accurately predict strength development. By understanding strength development in real-time, form-works are coming off quicker, and more informed decisions are made on loading, tensioning, and saw cutting.
2. Cost-efficiency
SENSYROC ™ sensors proved to be the most cost-effective solution in comparison to conventional testing methods that require not only cylinders to be made but also pay for labor and time of the person who cast and transport the cylinders.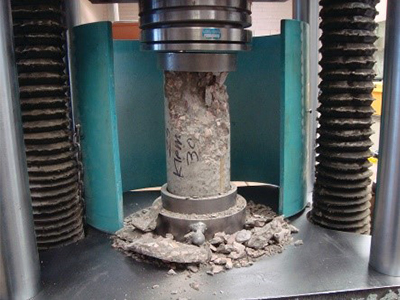 3. Facilitates internal data sharing among team members
The ability to share real-time data internally between the project manager, superintendent, engineers, and sub-contractors is one of SENSYROC ™ best features. This allowed the team to make quicker and more informed decisions during the construction process. Long story short – SENSYROC ™ sensors helped HARVEY save lots of time and money while building more efficiently.